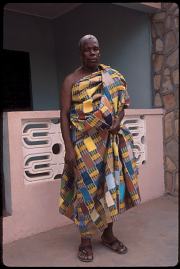 The importance of the role of weaving in West Africa cannot be overestimated. It has a role in all aspects of life—the domestic, social, commercial and religious. The European during the colonial period brought to West Africa the four harness loom and though this loom is in use (I saw one weaver using this loom in the Kumasi Cultural Center) it is disregarded by the vast majority of weavers in favor of the strip weaving loom. Cloth is imported and used by West Africans, but still it is the narrow strip weaving that provides employment for weavers across West Africa. Blankets, bags, sheets, rugs, tent dividers, pillows, umbrellas, shawls, head cloths, trousers, robes, smocks, etc… are just a few of the products produced by the strip weaver. Imported fabrics cannot replace the strength and durability of this fabric—nor the aesthetic.
The history of the strip loom in West Africa has its origins in tradition and folklore. However, in all probability the loom came to West Africa via the trans-Saharan trade routes. The introduction of the strip loom along with the cultivation of cotton occurred sometime during the 11th century AD. The Ashante loom is said to have been brought from the Bondouku area in the Ivory Coast to Bonwire by a man name Ota Kraban sometime in 1600 AD. He brought the loom on a Friday—hence the name of the loom "nasdua kofi" — or "loom Friday" — (Wrapped in Pride — Doran H. Ross).
No one truly knows how or when weaving came to this area of the world—and until historians and scientists can provide a definitive answer we can all be charmed with the story of Anansi, the spider. We along with the Ashante and all West African weavers can believe that it was this folk hero who gave the weavers the Gift of the Magic Thread.
Bibliography
Adler, Peter and Nicholas Barnard: African Majesty, the Textile Art of The Ashante and Ewe Thames and Hudson, Ltd., London — 1992
Ahiagble, Gilbert and Louise Meyer: Master Weaver from Ghana Open Hand Publishing, Seattle, Washington 1998
Broudy, Eric: The Book of Looms Brown University Press, London 1979
Lamb, Venice: West African Weaving Duckworth and Co., Ltd., London—1975
Ross, Doran: Wrapped in Pride, Ghanaian Kente and African American Identity UCLA Fowler Museum of Cultural History and the Newark Museum — 1998
Schaedler, Karl-Ferdinand: Weaving in Africa, South of the Sahara Panterra-Verlag, Druckhaus Munchen, West Germany --1987